Online conference, September 23 – 24
Treesearch Progress 2020 goes online! Due to the current situation with the ongoing pandemic, Treesearch is converting the 2020 Progress conference to a two half-days online event. During these days, this online conference will just as the regular Treesearch Progress give you an update of the ongoing research within Treesearch!
Treesearch Progress is a scientific conference with speakers from Treesearch presenting the latest scientific advances  and the progress of the platform. 
This second Treesearch Progress will be held as an online conference during two half-days. The conference is open for you who are associated to Treesearch or working in a Treesearch partner organisation.  Read more about the Treesearch Progress conference concept >>
Day 1: Research in collaboration with the industry – projects from Treesearch's and BioInnovation's call 2017
Day 2: Research presentations by young researchers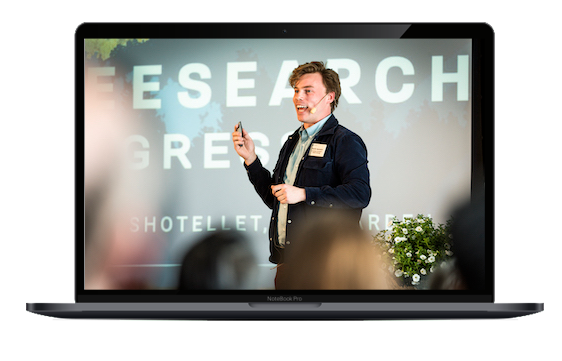 Now you can find the first posters and pitches for the presentations and more will come! Follow the link to take part of this online session, available both before and after the conference!
Wednesday September 23
The conference starts at 9.00 and ends at 12.00
09.00

Welcome and introduction
Jenny Joensuu,  Treesearch
Daniel Söderberg, Treesearch

Anna Wiberg, Program Manager BioInnovation

09.15

Process-adapted biobased assortments through novel development of the steam explosion process
Andreas Averheim, PhD student Valmet / SLU

09.30

Green wood adhesives based on side-streams from the pulp industry
Tijana Todorovic, PhD student KTH

09.45

Biocomposites-Materials modification to increase the processability at high fiber contents
Ehsan Hosseini, PhD student Chalmers

 10.00    Coffee break + surprise presentation


10.15

Lignin/Carbon Composite Electrodes for Large- scale Organic Batteries
Ujwala Ail, Postdoctor LiU

10.30

Adsorption of functional polymers to cellulose in the bleaching step – a way to increase the properties of the fibers
Vishnu Arumughan, PhD student Chalmers

10.45

Photochemical H2O2 evolution
with wood based materials (project EPIC: elektro- och fotokatalys inducerat I papper) 
Eva Miglbauer, PhD student LiU

 11.00   Coffee break + a visit to research infrastructure


11.15

Towards zero defencts in packaging materials
Sara Johansson, Postdoctor, Lund University

11.30

Transparent, cellulose-based packaging materials with good barrier properties
Yunus Can Görür, PhD student KTH

11.45

Kraft Lignin Heterogeneity: New piece in the structure puzzle with salient mechanistic implications (Project name Modification of Kraft Lignin for Material Synthesis)
Nicola Giummarella, Postdoctor KTH
Thursday September 24
The conference starts at 9.00 and ends 12.15
09.00

Welcome and Introduction
Jenny Joensuu,  Treesearch
Daniel Söderberg, Treesearch

09.15

All lignin, all green composites
Mohammad Morsali, PhD student SU

09.30

Water-stable composite coatings and membranes based on lignin nanoparticles
Jinrong Liu, PhD student SU

09.45

Tuning wood-water interactions by targeted wood modification 
Maria Fredriksson, researcher Lund University

10.00     Coffee break + surprise presentation

10.15

A visco-elastoplastic continuum model for paperboard 
Kristofer Robertsson, PhD student Lund University

10.30

Molecular dynamics simulations of cellulose:EAA15 co-polymer composite materials 
Aleksandar Mehandzhiyski, postdoctor LiU

10.45

Isolation of nanocellulose from spruce bark 
Barbara Rietzler, postdoctor KTH

11.00     Coffee Break + a visit to research infrastructure

11.15

Measurement of S and Na distribution in impregnated wood chips / fibers by X- ray fluorescence (XRF) to improve process efficiency of Pulp & Paper Industry 
Hafizur Rahman, PhD student Miun

11.30

Nanocellulose alignment under complex deformation field studied by a fluidic four roll mill and small angle X-ray scattering 
Barbara Berke, postdoctor Chalmers

11.45

Biocatalytic Hybrid Nanoparticles for Degassing and Stabilization of Single Electron Transfer-Living Radical Polymerization in Pick-ering emulsions 
Adrian Moreno Guerra, postdoctor SU

12.00

On the Art of Mechanical Cellulose Fibrillation 
Jakob Redlinger-Pohn, researcher KTH
The program may be updated closer to the conference

 Registration is free and open for you who are associated to Treesearch or working at a Treesearch-partner. 
For questions regarding the conference and content please contact Jenny Joensuu, Deputy Director, Collaboration at collaboration@treesearch.se